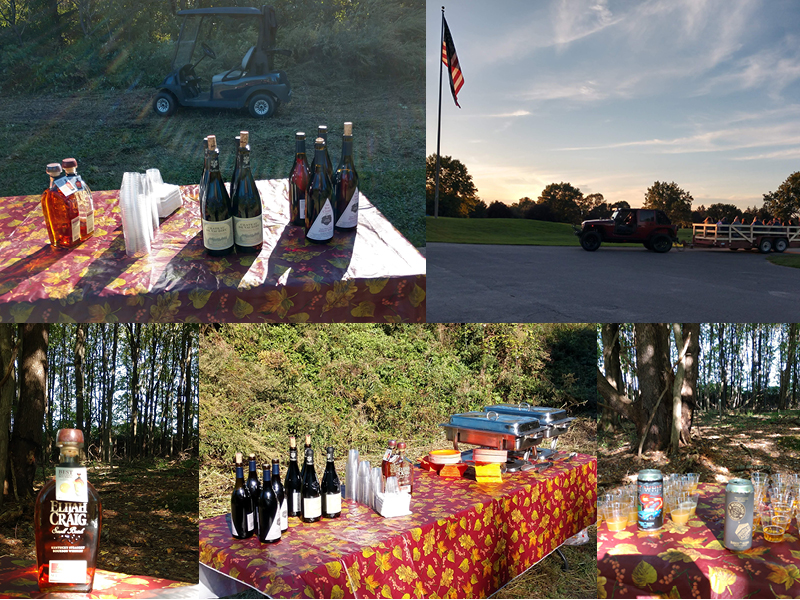 Wine in the Woods
Erin Kelley /
Posted 10.30.19
Wine in the Woods
As the leaves turned and the last few warm days were upon us we held our annual Wine in the Woods. A lovely stroll through the woods on a perfectly sunny Saturday this year. During the stroll, our members and their guests enjoyed appetizers accompanied by wine, bourbon, and local craft beer.
The event featured Hot Whip an American IPA and Heartwork from Buried Acorn Brewery and Woodland Farm Brewery. Our Kentucky straight bourbon whiskey featured was from "The Father of Bourbon" Eiljah Craig and the wines were a nice mix from our new wine list.
Including:
Greco di Tufo Terrantica, a straw yellow-white that is full-bodied and almost creamy in the mouth with flavors of honey and excellent acidity.
Remoissenet Pere & Fils Bourgogne Blanc 100% Chardonnay grapes create aromas of crisp pear, lemon zest, and minerals. Fresh and lively, with a silky texture and flavors of lime zest and white fruit.
Remoissenet Pere & Fils Bourgogne Rouge a 100% Pinot Noir with aromas of red summer berry fruit, red currant, and baking spices. It has a tangy, refined taste with suave tannins; flavors of pomegranate jam, red cherries, and spice box.
Chateau De Vaudieu with a mix of Grenache Noir and Syrah grapes it has a robust ruby color. The nose reveals a subtle blend of strawberry jam and cocoa bean, then notes of white pepper take the ascendant. In the mouth, the attack is fresh thanks to a fine concentration of menthol tannins, which evolves towards notes of graphite.
Visit our events calendar for upcoming Member Events you don't want to miss!